Roadrunners head home for 'Orange Out' game against Texas Southern | UTSA today | UTSA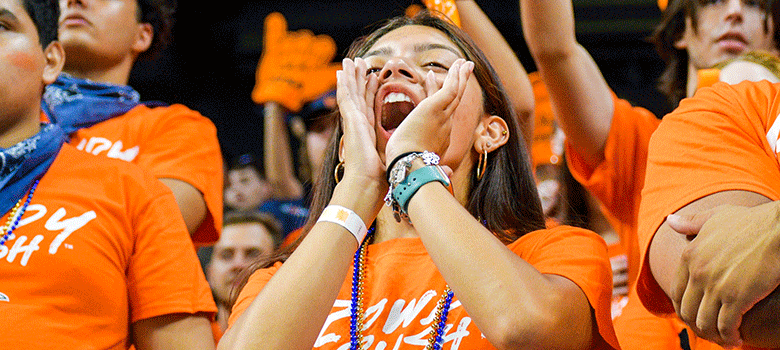 PRE-MATCH
rowdy city
11:30 a.m., HEB Plaza (north side of the Alamodome)
Roadrunner fans of all ages can partake in free pre-game festivities at Rowdy Town, including a DJ, inflatable obstacle course, interactive games, exhibits, food and drink samples.
UTSA Alumni Association Roadrunner Nation Tailgate
11:30 a.m., Hoefgen Lot (499 Hoefgen Avenue)
The UTSA Alumni Association invites fans to the official Roadrunner Nation tailgate. Enjoy food, drink, activities, and giveaways, plus tours from UTSA Cheer, the Spirit of San Antonio Marching Band, and Rowdy the Roadrunner. Several ticket packages for the Roadrunner Nation tailgate are available. Blue tickets are $20 and come with a food ticket and cash bar. Orange tickets are $45 and come with a dining ticket and open bar privileges. An all-inclusive season pass for the tailgate can also be purchased this week for just $200.
Tickets are $10 for students ages 13-20, who receive a food ticket and a soft drink. Children 12 and under are admitted free. Discounts are also granted to members of the UTSA Alumni Association.
spiritual walk
12:15 p.m., Alamodome, Roadrunner Alley (between Lots B and C)
This exciting tradition motivates Roadrunner fans and the UTSA team for the game. Join the Spirit of San Antonio Marching Band and UTSA Spirit Teams as they walk the team down Roadrunner Alley and into the Alamodome approximately two hours before each home game. Fans can line the walkway between the Alamodome B and C parking lots to cheer on the team.
UTSA Student Interior Tailgate
1-2:15 p.m., Alamodome, Hall of Fame Club (north end of Club Level)
The UTSA Student Indoor Tailgate is where students go to connect, cool off and buzz before the game. DJ Wynkoop and QuickStrike Entertainment will provide fun and excitement before kickoff. Free food and drink will be available while supplies last and door prizes such as gaming concession vouchers and UTSA apparel will be given away. Each game day, different UTSA colleges and departments will be highlighted to connect students to important resources.
---
GO TO GAME
Tickets
Tickets are on sale by calling or texting 210-458-UTSA (8872) or visiting ticketmaster.com. UTSA switched to digital tickets via Account Manager. All students currently enrolled at UTSA are eligible for free entry to all home football games. UTSA students can purchase up to four guest tickets to sit in the student section.
For walk-in sales, the Southwest Alamodome box office will open at 10 a.m. Saturday and all other Alamodome box offices will open at noon. Customer service counters are located at the northeast and southeast counters.
Game day parking and tailgating
Parking in Lots A, B and C of the Alamodome is limited to fans who have already purchased permits. A limited number of disabled parking spaces are available on a first-come, first-served basis. Parking lots will open at 8 a.m. for those with valid parking passes. Please do NOT enter before 8:00 a.m. or staff will ask you to leave your seat(s) and return once the grounds are open. There are several paid public parking lots near the Alamodome.
Alamodome parking lots will open at 8 a.m. Saturday. Visit UTSA Athletics online for more information and City of San Antonio tailgating guidelines. Student organization tailgating begins at 10:30 a.m.
Getting to the game
Students and their guests can park at UTSA's main campus and take a UTSA shuttle to the game at the North Paseo Bus Oval, just outside the North Paseo building. Shuttles will begin serving the Alamodome at 11:30 a.m. The last shuttle for the game will depart campus at 2 p.m. Students will be dropped off and picked up at the Robert Thompson Transit Station at the Alamodome. Buses will begin return service to UTSA at the start of the fourth quarter and the last Alamodome shuttle will depart one hour after the game ends.
VIA has announced that it will serve UTSA home football games. VIA's Park & ​​Ride service offers round-trip travel to the Alamodome for just $2.60. Service to all UTSA home games will be provided from Park-and-ride at the intersection, starting three hours before match time, and return service will operate for one hour after each match. Park & ​​Ride fare is $1.30 each way with discounted rates available for children, seniors, students, and active duty military. Pre-purchase tickets on VIA goMobile+ App, free to download on Apple and Android devices. Cash and credit cards are accepted on game day at Crossroads Park & ​​Ride.
UTSA students can use their U Pass for game service. VIAtrans customers and children under 5 travel for free. VIA bus passes are not valid for this service. VIA's 1-day pass, 7-day pass and 31-day pass are valid for special event service.
The drop-off and pick-up location for rideshare users is located in Parking Lot D next to the Henry B. Gonzalez Convention Center at the corner of Montana Street and Tower of Americas Way.
Alamodome entrance
Please enter the stadium early to avoid long queues. Doors open to the public at 1 p.m. Fans should read the Alamodome Clear Bag Policy before entering the stadium, including the list of approved bags. Speed ​​lanes will be available at security checkpoints for those without a bag. Please take out your keys, phone and wallet before going to the scanners. Please exit or load your tickets on your phone with the screen brightness at maximum before reaching the gates.
Student seats
Student seats are general admission in sections 122-131. To accommodate increased student attendance, Club Level Sections 220-226 will also be open for general student admission seating. The Spirit of San Antonio group will occupy sections 127-128.
UTSA equipment
Fans can purchase the latest UTSA apparel and accessories at the Rowdy Campus Store, which will be set up in Lot B near Roadrunner Alley. Merchandise counters are also located inside the Alamodome in the Plaza Level Lobby near sections 106 and 118.
---
LOOK. TWEET. TO CELEBRATE.
TV and radio shows
Saturday's game will be televised on Stadium (KMYS-DT 35.3 in the San Antonio area). Josh Appel provide play-by-play commentary alongside the analyst Sed Bonner.
The radio show will air live on Ticket 760 AM in the San Antonio area and on SiriusXM app channel 982. Andy Everett (game by game), Jay Riley (analyst) and pat evans (journalist) will call the action. The pre-game show will begin at 12:30 p.m. and there will be a 45-minute post-game show. The radio show can also be listened to online at Ticket760.com and through the iHeartRadio and The university network apps.
Game Day Traditions and social media

First, get into game mode familiarizing yourself with UTSA lore including the fight song and alma mater. Then stay engaged with other Roadrunners by sharing your UTSA Game Day experiences on social media using the hashtags #UTSA, #BirdsUp, #LetsGo210 and #210TriangleOfToughness. All Roadrunner fans are encouraged to follow Soccer UTSA and UTSA Athletics on Twitter and UTSA on Twitter, instagram, Facebook and ICT Tac.
University experience
During football season, the Monument lights and the Student Union Tower lights will glow blue and orange during home game weeks. After a win, the lights turn orange to celebrate the rest of the weekend.