Fulton football using camp to build for 2022 season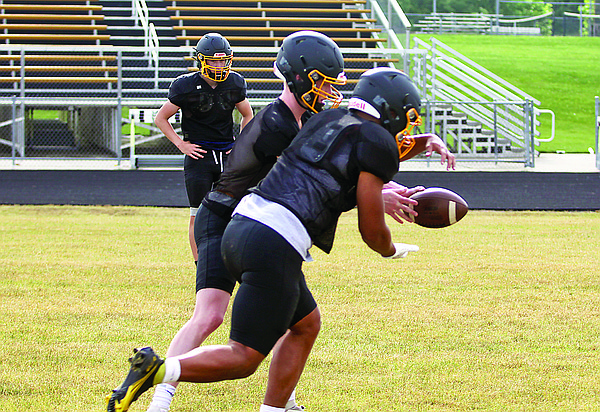 Fulton Football kicked off its first week-long summer camp on Monday with a bigger squad than last year – 30 players in total.
According to Hornets coach Dana Chambers, the team is focused on the fundamentals during the summer period.
"We have to work on our technique," Chambers said. "You have to get really good at what we do and build on that every day. So we start – every day – with our individual exercises. The guys work through the techniques in our program, then we add and build.
During the first hour of Wednesday's two-hour practice, the team split into three different groups – quarterbacks and running backs with linebackers and defensive backs, wide receivers and offensive lineman/ defensive.
Quarterbacks and running backs would run a pass or run play and run into a few defenders. Each play would be a repeat of a play in play, but without any offensive or defensive lineman.
For the wide receivers, Fulton receivers coach Matthew Greble threw tennis balls to the receivers as they ran routes around the cones after catching the ball.
On the side of Robert E. Fisher Jr. Stadium, in a grassy area, Hornets linemen performed drills on block shedding equipment.
Chambers began the practice by observing both groups on the football field for the first 30 minutes, then drove a golf cart to where the lineman was practicing.
After the first hour, Chambers drove a player to group practice, which took place in the Fulton parking lot.
Back on the field, Chambers asked the players to take a break in the water.
After the water break, 27 of the Hornets' 30-man squad came together to lead live plays, with 11 players on offense and defense. After each game, Chambers traded some players to give others more rep.
For the final hour, the team continued to play, with water breaks scattered in between.
After the last day of summer camp on Friday, Fulton will travel to Warrensburg today for a one-day camp in central Missouri. The team will take a break before its last week of summer camp, which will take place from July 11-15.
The Hornets begin fall training Aug. 8 and then compete in the Hermann Jamboree on Aug. 19.
Fulton's first game will be on the road against Eldon on August 26.